Recent tragedies involving young families illustrate the importance of estate planning for parents with minor children. Parents who fail to nominate guardians or invest in life insurance as part of their estate planning put the future of their surviving family members at risk and cause additional burdens for loved ones.
Jesus Machado was behind the wheel when his Jeep Wrangler struck a curb and overturned near Fort Myers, Florida. The 36-year-old father of three died along a highway he had routinely driven dozens of times before. His wife, Keli, 30, was severely injured in the accident.
When Keli passed away days later, the heartbreaking tragedy made national headlines. Their two sons, ages 11 and 8, and daughter, 5, survived the crash, but they'll be without their parents when they need them the most.
A week later, thousands of miles away, another calamity involving young families drew the nation's attention when a construction crane collapsed near downtown Seattle, killing four people.
Two of the Seattle victims were fellow Marine Corps veterans who found themselves working together in a different dangerous mission as ironworkers. Andrew Yoder, 31, had two sons, ages 3 and 5. Travis Corbet, 33, was a newlywed who had yet to take his honeymoon.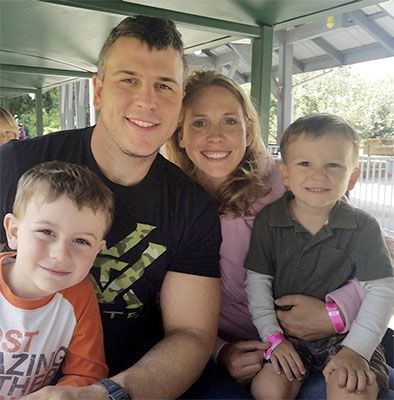 People reacted on social media with sorrow and concern after the tragedies in Florida and Seattle. Family members and friends, in the meantime, organized online fundraising campaigns to deal with the sudden and unexpected financial hardships.
For the grief-stricken families, expenses were an immediate concern - for funerals, medical bills, living expenses and ongoing emotional therapy for the children.
"Our family is completely unprepared for such tragedy and at this moment we also ask that you find it in your hearts to help us give my brother the burial that he so very much deserves. We don't know how we will go on without him," says a GoFundMe.com appeal for the Florida family. "The children will need extensive therapy as well as essentials, and we will need to relocate them as we need them as comfortable as possible and we intend to return them to a sense of normalcy."
The Machados' youngest child, who was critically injured, may have special needs and ongoing medical issues as she recovers. Surviving family members acknowledge they were unprepared for new child-rearing obligations and the attendant financial burdens.
Meanwhile in Seattle, members of the Yoder family say they were aware of the job risks, but it was difficult to anticipate what happened, given the young father's reputation as a skilled, reliable and disciplined worker.
"He mentioned it a time or two, that it was a dangerous job. But that was ancillary to what he was about doing," Aaron Yoder said of his brother. "He took so much pride in it."
A church near Seattle set up a family benevolence fund to assist Mr. Yoder's widow and their two youngsters and defray the family's expenses. Meanwhile, fellow ironworkers created an online campaign to raise funds for Mrs. Corbet, whose family lost its primary breadwinner.
Details about the families' estate planning preparations have not been reported. It's unclear whether the families will benefit from life insurance, or if the victims had key elements of a plan in place, such as wills, trusts and the appropriate beneficiary designations on their assets.
Unfortunately, most young families lack a comprehensive estate plan. A recent Gallup poll found that just 35% of Americans age 30 to 49 - prime years for raising children and saving for college and retirement - have at least a last will and testament in place. Parents often wrongly assume their estates aren't large enough to warrant an estate plan. If you have spouse or children, an estate plan is an absolute must, unless you prefer to give up control in what happens to your family after you become incapacitated or die.
Don't guess: Get a will, name a guardian
Parents may wonder what would happen if they die or become incapacitated and can't take care of their young children. Who will take care of the kids?
For those without an estate plan, it's no mystery. A probate judge will follow state law and decide who'll have the legal right to take care of your kids, receive and spend your money and guide them into a future as independent adults after they turn 18.
Instead of wondering, parents with young children can judge for themselves who is best suited to raise them and responsibly manage their inherited money. Those personal judgments are formalized in your last will and testament, which names guardians and alternates for your children. A judge then uses your will as a guide to determine legal guardianship, not a ranking of relatives prescribed by law or drawn-out legal proceedings involving loved ones vying for custody.
Your will also names your personal representative, who is responsible for carrying out provisions of the will (including distribution of property). If both parents die together or a single parent dies, and guardians and personal representatives are not named, a judge may choose someone you never intended. A social worker, not a loved one or close friend you had in mind, could be appointed instead. Competing interests and disagreements often wind up in court and lead to negative outcomes.
Once their grief dissipates, young children who lose their parents are likely to endure a lifetime of challenges, requiring careful consideration of guardianship and related matters. Grieving children face an increased likelihood of substance abuse, depression, criminal behavior, poor school performance and higher unemployment rates, experts say.
Young couples, therefore, need to consult in advance with the people they select as proxies to ensure they are willing to serve. The choice of guardians for your children is one of the most consequential decisions you face. Being named a guardian may seem like an honor, but it's a demanding, long-term assignment that should be carefully considered and agreed upon.
Remember: It's up to you to decide what's in the best interests of your children. If not, a judge will make the call, and your kids could wind up as wards of the court.
In the immediate aftermath of an untimely death, loved ones often face a cash-flow crisis as they await reimbursement - if available - from the estate. The average cost of a funeral and services alone approaches $10,000. The estate settlement process often requires an attorney - and an upfront retainer fee that may cost thousands. Filing fees and the publication of death notices cost hundreds more. Family support, household expenses, debts and taxes contribute to the sudden need for liquidity.
But most people can't afford to wait on internet fundraising campaigns or the slow-going probate process when funds are needed to pay for immediate expenses. Bank accounts with payable-on-death designations bypass probate and can distribute funds within days to those you choose to receive them, alleviating cash-flow constraints.
For young families, the most important emergency fund is created by the protection of life insurance. Life insurance is the only financial product that can be leveraged to provide a significant sum of money within a week or two that can be utilized for years to come if the unthinkable occurs.
Who will control my family's assets?
If your children are left without parents, they will need not only a guardian but also someone to manage their finances and inherited property, such as the personal representative named in your will or a successor trustee named in the trust, until they reach adulthood. Families have unique circumstances, but separate individuals or the same person can fill any or all of those roles, depending on their qualifications.
The most efficient way to control how an estate's assets are managed and distributed is through the creation and proper funding of a revocable living trust. A trust avoid delays, reduces the potential for disputes, provides privacy for the family and gives the successor trustee access to funds needed to pay for immediate expenses.
Your self-appointed successor trustee can make spending and asset distribution decisions based on your specific instructions. Inheritances paid to children through a trust can be structured to prevent an 18-year-old potential spendthrift, for example, from receiving an inheritance all at once or ensure a special needs child remains eligible for government benefits. A trust also can restrict access to estate assets from outsiders, such as a court-appointed guardian, and require the successor trustee's approval.
Young parents also need to prepare for life events - incapacitating injuries and illnesses - that could leave their children vulnerable. In the event of incapacity, durable powers of attorney and a living trust allow you to decide who will protect your kids and look out for your medical and financial interests.