University Park, FL, June 28, 2018 (Newswire.com) - Legacy Assurance Plan has always been firmly committed to the belief that the foundations of any quality estate plan are information, knowledge and access to cutting-edge tools to help consumers achieve their estate and financial planning goals. Now, Legacy Assurance Plan has enhanced its mission with the launch of the new legacyassuranceplan.com website, designed to bring resources of information, education and access to an even wider array of consumers.
Legacy Assurance Plan and its affiliated companies have long stood as an industry leader in providing educational information regarding how to develop the highest-quality estate and financial plans. Legacy Assurance Plan's website serves an integral role in that process, providing an online resource to share a portion of the knowledge that Legacy Assurance Plan's representatives share with the public in person every day.
The new website continues to serve Legacy Assurance Plan's mission of providing knowledge and education to consumers about estate and financial planning while also offering an enhanced and even more user-friendly experience to learn about the details of plan membership. Also, the new website gives consumers the option to sign up for membership through the website. With the new website, consumers now have the option, not just to educate themselves about the details of wealth and asset preservation, estate planning and financial planning, but also to learn the specifics of what it takes to become a member and the benefits of that membership, all from your home computer, laptop or mobile device.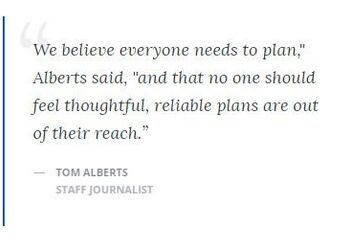 "With the new website, you can become a plan member and begin enjoying the benefits of membership without ever having to leave the comfort of your couch, recliner or home office chair. The option to become a Legacy Assurance Plan member will be available to you anytime, anywhere. Membership, and all that comes with it, will be literally at your fingertips," announced Tom Alberts, Staff Journalist of Legacy Assurance Plan.
"We believe everyone needs to plan," Alberts said, "and that no one should feel thoughtful, reliable plans are out of their reach." The new website is just the latest innovation for putting that belief into action. Legacy Assurance Plan understands that the process of developing much-needed estate and financial plans can sometimes seem incredibly intimidating and hopelessly overwhelming. It should not and does not have to be that way. With the new legacyassuranceplan.com website, help is just a mouse click away."